The Loh e Thaffuz or Protection Talisman was made during the month of Rajab 2015 at a unique time that comes only once a year. An important tragic has been shown of this evanescent world. Earthquake, flood and storm, these all are natural disasters, human being has no any control on it but what to do about that affliction which a human being is giving to another human being. Positive and negative both are included in a human being's nature then where is protectiveness of life? The stuff of warfare is everywhere. Today a man has no any guarantee that if he is going to his work so will he return back safely at home to his innocent children, that human life which is very precious especially for a mother and who has many aspects, who thinks that a child is a source of her pride, joy and life and a reason of her every breath, could she say again to her child an apple of her eyes? That human life which is attached to a lady through the beautiful relation of marriage and made promises as a husband to always look after and protect her whole the life, will he be there to be with his wife for her protection and security? Could he do this again? Where the life of human being is precious for many people there also it is very cheapening for that persons who kill but feel no need to think only once before act.
This warfare, mass of explosives, rivers of blood, uncountable figure of corpses, bloodshed, bomb blasts, iniquity and inhumanity these all situations are now as an exam at last this life which is how much necessary and precious for them who are attached with us so how can we save it? How can it be protected?
After intend and analyze all these things we are producing a Loh invented by Late. Hazrat Kash ul Burni R.A and it is made in primary (sa-at) on first Rajab. This is a Loh of Huroof e Muqate-at Qurani. Often Surah of the Holy Quran begin from it, these are total 14 words like
آلٓم ۔ آلٓمٓصٓ ۔ آلٓرٰا۔المرا۔ کھیعص۔ طہ ۔ طسم ۔ طس ۔ یس ۔ ص ۔ حم ۔ حمعسق ۔ ق ۔ ن
This is the Loh: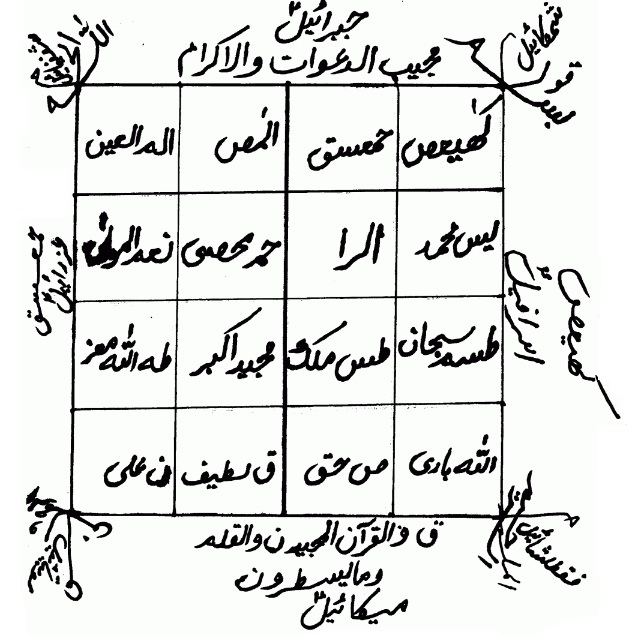 Late. Hazrat Kash ul Burni R.A wrote about this Loh in his magazine Roohani duniya in the month of September 1966 that If this Loh is written in the primary sa-at on first Rajab then who keeps it with him/her, that person will never drown in water, fire can never burn, weapons can never effect in warfare, can be saved from mishaps and accidents, black magic and spell can never be effected, If a person keeps it in luggage or room so the luggage and room or house will be saved from thieves, If a person hangs it in a car, truck or other vehicles so will be saved from accidents, It is also beneficial for progress and achievements, it can keep you safe from all the negative influences and powers, If have any marriage problem for a girl and not getting proposals so a girl just  should to wear it in her neck soon proposals will start to come, if a patient of epilepsy wears it so patient can be saved from fits, if a person is suffering from the problem of nosebleed so after wearing it so the bleeding will stop straightaway and it can give its advantages and help us in many other respects.
We can use paper for write this Loh but it is better if we use silver plate like this we can keep it always with us and acquire its powerful spiritual benefits.
The Almighty Allah has kept secret powers in these words of the Holy Quran.
We have prepared limited Alwahs in the particular time. Wishful and needy persons who really want to take help and advantage by its powerful wondrous effects and want to have experience of its miracle so they can get it directly from us by hadiyatan.
For further details or payment inquiry you can contact with us
The loh has been given a plasting coating to protect it from any disgrace even if it is worn without ablution.