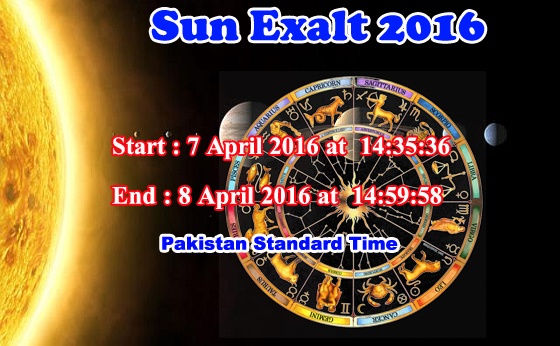 The planet Sun is known as the king of the planets. The Sun It is the most powerful planet of our solar system. It showers positive energies on earth. Body and soul get benefits from these positive energies. The Exaltation of Sun is of most important in planetary events. When planet Sun enters in the house of Aries and goes to 19 degree then it comes into the state of exaltation. At this time Sun showers its cosmic rays on the earth. If these rays are absorbed and put into different spiritual amulets and talisman then these bring high positive energies to holder of talismans or amulets associated to planet Sun. These also bring respect and honour to the holder. These remove all hurdles from the journey towards success and prosperity.
In the past we have published many articles related to the exaltation of the Sun such as Seal of Solomon,  Aristotle method and procedure of making the ring associated to this event. This year we are presenting another gem given by Kaash Al Barni in his book Ramuz Al Jafar in detail. The article has been published in various magazines but due to the magazine layout it was difficult to elaborate the method. Today we are giving full details of the method with an example so that anyone can make it.
This talisman helps in winning the hearts of people and officials of highest rank. It also enables a person to excel in personal status and to hold a prominent position in the society. It is also very helpful in removing all sorts of black magic from a business or a person.
The Sun talisman brings success in politics and legal matters. Those who are facing opposition at work, or not getting promotion and people living in poverty can benefit from the magical powers of this talisman. The process of talisman making does require a lot of hard work but if you are able to make it then the entire world is standing at a hand distance to conquer it.
Procedure with example
First of all write holy sentence word by word:
اله الالهة الرفيع الجلاله
Then write
الشمس
Then write your name at the end in letters and perform the Takseer Jafri i.e. to perform method of Muakhar Sadar till Zamam. Then take out all Noorani letters from this takseer. These 14 letters are known as Noorani letters:
اھ ح ط ی ک ل م ن س ع ص ق ر
Let us explain the method step by step. First of all write the Holy sentence in letters:
اله الالهة الرفيع الجلاله
In letters form it will be like:
ا ل ھ ا ل ا ل ھ ت ا ل ر ف ی ع ا ل ج ل ا ل ھ
Then write الشمس in letters:
ا ل ش م س
At this stage the line will look like this:
ا ل ھ ا ل ا ل ھ ت ا ل ر ف ی ع ا ل ج ل ا ل ھ ا ل ش م س
Now write your name along with mother name in letters. In our example the name of the name of the person is لطيف بن نذیر بیگم Latif son of Nazir Begum.
The name is letters:
ل ط ی ف ن ذ ی ر ب ی ک م
Now write all letters in a single line:
ا ل ھ ا ل ا ل ھ ت ا ل ر ف ی ع ا ل ج ل ا ل ھ ا ل ش م س ل ط ی ف ن ذ ی ر ب ی ک م 
Now perform Takseer Jafri but first of all we will tell you the method of Muakhar Sadar to bring Zamam. For this you have to write the last letter from the above line first and then first letter from the above line. Make a new line by writing entire letters in this manner. Keep repeating till you get the same letters at the end as of first line. We are giving here an example so that you can understand this procedure with great ease:
| | | | | | | | | |
| --- | --- | --- | --- | --- | --- | --- | --- | --- |
| 7 | 6 | 5 | 4 | 3 | 2 | 1 |   | Numbers |
| ن | س | ح | د | م | ح | م | 1 | Asas |
| د | م | ح | ح | س | م | ن | 2 | Gardish |
| ح | س | ح | م | م | ن | د | 3 | Gardish |
| م | م | ح | ن | س | د | ح | 4 | Zamam |
| ن | س | ح | د | م | ح | م | 5 | Meezan |
If you look at this example you will find that the first line is the original line at the last line you will get the words matching the first line. The rest lines are process lines where words are moved. The second last line above the last line w is known as Zamam. The last line is known as Meezan. The purpose of Meezan line is to confirm that our takseer process is performed correctly. If the letters in the first and last line are not at the same place then the entire process is wrong. To see the entire takseer please click.
After performing takseer take out all Noorani haroof. We are reminding you noorani haroof once again these are:
اه ح ط ی ک ل م ن س ع ص ق ر
In our example the first line is:
ا ل ھ ا ل ا ل ھ ت ا ل ر ف ی ع ا ل ج ل ا ل ھ ا ل ش م س ل ط ی ف ن ذ ی ر ب ی ک م
Noorani haroof from above line are:
ا ل ھ ا ل ا ل ھ ا ل ر ی ع ا ل ل ا ل ھ ا ل م س ل ط ی ن ی ر ی ک م
Take the numerical value of these words as per Abjad e Qamri. The value of these letters is 1201. In our takseer the Zamam comes at 12th line. We will multiply 1201×12 to get the total of 14412. Kindly note that whenever you want to take the numerical values from the takseer then the values will be taken till the Zamam
and do not include Meezan. We will make a square as per fire element (Murabba Atashi) for the total of 14412. To make fire element square subtact 30 from this total and then divide the new value to 4. Our value is:
14412-30 = 14382
14382 divided by 4 = 3595
After division with 4 if you get a remainder of 1 then add an extra value to the box number 13, with a remainder of 2 add one more value to the total of box number 9 and with a remainder of 3 add another value to the box number 5. These boxes are known as Kasr boxes. By dividing our value 14382 with 4, we get a remainder of 2 therefore we will add an extra value in the box number 9. We are giving here the template of fire element square along with our exemplary talisman.
Talisman
| | | | |
| --- | --- | --- | --- |
| ٣٦٠٢ | ٣٦٠٦ | ٣٦٠٩ | ٣٥٩٥ |
| ٣٦٠٨ | ٣٥٩٦ | ٣٦٠١ | ٣٦٠٧ |
| ٣٥٩٧ | ٣٦١١ | ٣٦٩٤ | ٣٦٠٠ |
| ٣٦٠٥ | ٣٥٩٩ | ٣٥٩٨ | ٣٦١٠ |
Fire element square template
| | | | |
| --- | --- | --- | --- |
| 8 | 11 | 14 | 1 |
| 13 | 2 | 7 | 12 |
| 3 | 16 | 9 | 6 |
| 10 | 5 | 4 | 15 |
We have to write the words from the four om oo corners and center of our takseer jafri. Here is an example to explain this step.
| | | | | |
| --- | --- | --- | --- | --- |
| ہ | د | ج | ب | ا |
| ج | ب | د | ا | ہ |
| د | ا | ب | ہ | ج |
| ب | ہ | ا | ج | د |
| ا | ج | ہ | د | ب |
The last line of Meezan will not be included. The first word at the top left side is Alif and the bottom word is Baa. The first word on the left top line is Haa and the at the bottom word is Alif. Now come to the center of the takseer to take the central word. Once again we will remain till the line of Zamam. This exemplary takseer is based on five line. We will leave top oC two and two line from the bottom to get the central line. The central line is consist of these letters:
ج  ھ  ب  ا  د
This line has five letters. We will omit two letters form write side and two words from left to get the central letter. The letter Baa ب  is at the center. Therefore we will take this letter. In case you get a line with even words then the central letters can be more than one letter.
To view the entire takseer click on this link.
In this takseer we have 45 letters with a Zamam at 12th line. The corner letters at right side are Alif  ا and Laam ل. The corner words at the left side are Meem  م and Alif ا. Now we will take the central word from this takseer. This takseer till Zamam has 12 lines which are even. In case of odd we split the takseer in two equal parts. If we split this takseer in two equal parts then we get 6 lines each and we do not find any central line therefore will divide the takseer in two equal parts with 5 lines from the top and 5 lines from the bottom. We get line number six and seven as central lines. In these lines we have 45 letters. We omit 22 letters from right and left. The central letters are Laam and Alif.
The corner and central letter are  ا  ل  م  ا  ل  ا .
The numerical value of these letters is 103. We will take names of ALLAH matching this total, whether is one or more names. We get two names here which are ALLAH اللہ and Awal اول .
The value of letters ALLAH is 66 and Awal is 37 making a total of 103. Now we will make Moaklaat. If the letters of the first line of takseer are odd then pick three or five letters and add letters Aeil آئیل at the end to make a Moakal. If the words of first line of takseer are even the pick two words and add word Aeil to make a Moakal. We have 45 letters  in our takseer therefore we will take five letters and add Aeil to make Moaklaat. The letters and Moaklaat are given here:
ا ل ہ ا ل : الھال آئل ، ا ل ہ ت ا : الھتا آئل ، ل ر ف ی ع : لرفیعائل ، ا ل ج ل ا : الجلاآئل
ل ہ ا ل ش : لھالشائل ، م س ف ی ص : مسفیصائل ، ل ل ط ی ف : للطیفائل ،
ب ن ن ذ ی : بننذیائل ، ر ب ی ک م : ربیکم آئل
Now we will make Awan for this talisman. To make Awan we have to replace letters of takseer line with Abjad e Ajhaztt. Rest procedure for picking odds and even letters remain same. We are giving Abjad e Ajjhaztt for your convinience. We will also add letters Hoosh to make Awan. The Abjad e Ajhaztt is given below:
| | | | | | | | | | | | | | |
| --- | --- | --- | --- | --- | --- | --- | --- | --- | --- | --- | --- | --- | --- |
| ظ | ذ | ث | ش | ق | ف | س | م | ک | ط | ز | ھ | ج | ا |
| غ | ض | خ | ت | ر | ص | ع | ن | ل | ی | ح | و | د | ب |
Our takseer look like this:
ا ل ہ ا ل ،  ا ل ہ ت ا ، ل ر ف ی ع ، ا ل ج ل ا ، ل ہ ا ل ش ، م س ن ی ص ، ل ل ط ی ف ، ب ن ن ذ ی،
ر ب ی ک م
After replacement with Abjad e Ajhaztt we these letters:
ب ک و ب ک ، ب ک و ش ب ، ک ق ص ط س ، ب ک د ک ب ، ک و ب ک ت ، ن ع ص ط ف ،
ک ک ی ط ص ، ا م م ض ط ، ق ا ط ل ن
By adding letters Hoosh we get following Awans:
بکوبکھوش ، بکوشبھوش ، کقصطسھوش ، بکدکبھوش ، کوبکتھوش ، نعصطفھوش ، ککیطصھوش ،
امضطھوش ، قاطلنھوش
We will write ALLAH names along with Moakal and Awan names at four corners of fire element square. Write the words associated to planet Sun at the back of the talisman.
Our talisman in final form will be like this:
Sun Talisman Front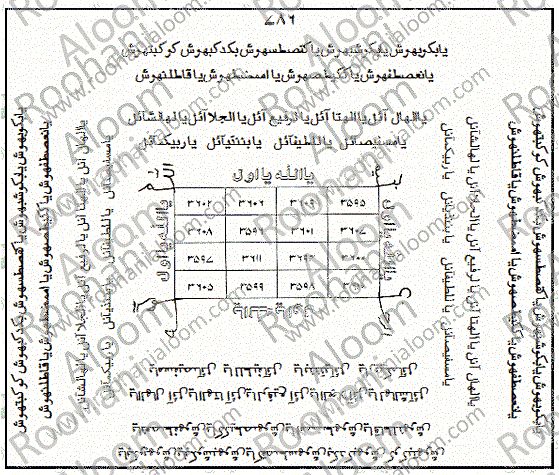 Sun Talisman Back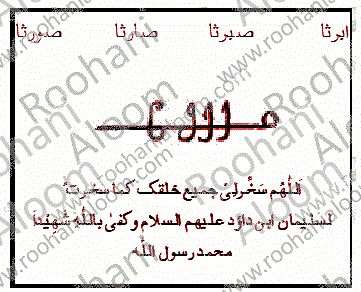 We would like to clear one point here that many spiritualists write word سخرت instead of سخرلی .
These words are of a prayer in which we request ALLAH to give me command over all creations as YOU(ALLAH) commanded Prophet Suleiman son of Prophet Dawood. The important mistake is done par spiritualists is that they write عیلہ السلام Alayh Alsalam for both Prophets which is wrong as per Arabic language. The correct words are علیھم السلام Alayhum Alsalam. 
The best metal for this talisman is gold. It must be 14.64 grams in weight. If someone cannot afford gold then it can be made on the mixture of gold and silver or gold and copper. It can also be made of pure copper or a white paper that has a golden back (cigarette paper). With orange colour make the talisman on the white side and write the sun words on the golden side of the paper. During talisman making, burn Ood, Sandal and Saffron.
The difference of metal also put effects on the talisman. The highest value metal shows positive results quickly rather than low value metals. Once you have finished the talisman place it in of a red colour cloth and stitch it. Keep it at a safe place. On the next day stand at a place where you can see sunrise easily. Start recitation of Surah Al-Shams from the Holy Quran. When the sun is risen place the talisman on your hands and say these words: O the Lord of universe, o ALLAH o Awal give me divine light as YOU have given to the sun, rise me above all and give me command over all creatures. After it keep this talisman in your wallet or wear in your neck or right arm. With the time this talisman will remove all obstacles in your life and will bring success and unseen spiritual help in every matter of life.
We have tried our best to elaborate the entire procedure with example. Please note that in prayer we have used words ALLAH and Awal but you will recite the words that you get from your takseer jafri. Those who understand the value of time and hard work and wants to have this talisman from us should contact us few days before the exaltation sun.